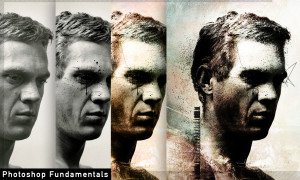 Photoshop Fundamentals for Makers, Designers, and Deviants
Course Description: This affordable course will teach the basics and fundamentals of Photoshop in a relaxed and personal setting. Come get your questions answered! Practice those tricks you've been itching to learn. The class will include: basic tool usage and order, image manipulation, image preparation, and advice on workflow practices. Time will be allotted for one-on-one attention as well as for practice with introduced techniques and skills. Students are expected to already have Photoshop on their computers, as well as some images they would like to work on. If not, the instructor has some images that he can provide.
Outline: 3 sessions, 2 hrs ea., weekly for three weeks (12/2, 12/9, 12/16/2015)
Cost: $25/ session, $65/ all 3 sessions
The Instructor: Noah McGinley is a local light and visual artist who has worked in the graphic design field for 6+ years. He has worked extensively with print media and high impact destination websites, ranging from production work to art direction. He is an approachable, enthusiastic instructor who is excited to provide these skills to those who are seeking them for work or otherwise.
Register for this class: http://www.eventbrite.com/e/photoshop-fundamentals-for-designers-makers-and-deviants-registration-19069420149